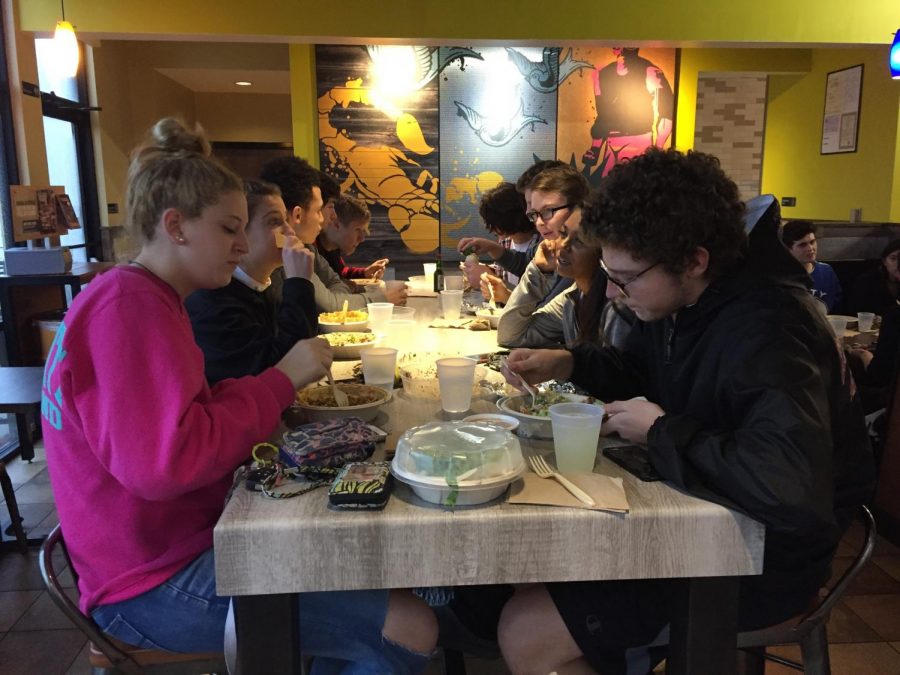 Grace Goodman
Dozens of RHS students can be found flocking to Qdoba on Tuesday afternoons for their great Mexican food, and specifically their $5 burrito deal for students.
In addition to the well-known Tuesday deal, their menu contains options that are not at most Mexican-style food chains. Not only do they offer guacamole at no extra cost, but their menu also has soup options, hard tortilla bowls, wheat tortilla substitutes, shrimp and desserts.
The atmosphere at Qdoba includes friendly staff, a spacious environment with big tables so large groups can sit together.
"I always try to go to Qdoba on Tuesdays because it's nice having a meal with all my friends," senior Naomi Goldstein said.
Qdoba is also a frequent RHS fundraiser location, supporting several school organizations and clubs.
Another standout component of Qdoba is their multiple quesos to suit all students' tastes, whether they be spicy or mild. Chipotle recently released their own queso to customers' dismay. Many students described Chipotle's queso as grainy and bland, affirming that it can't compare to Qdoba's creamy queso.
Between their strong menu, amazing Tuesday deals and expansive queso offerings, students look forward to hanging out with friends for a good meal at Qdoba, highlighting Qdoba's own philosophy on their website.
"At QDOBA, our food philosophy lies in crafting thoughtful flavor combinations that will satisfy your biggest cravings and leave you counting down the days until you're back for more."