18 & Under: Pizza CS Leaves Guests Craving for More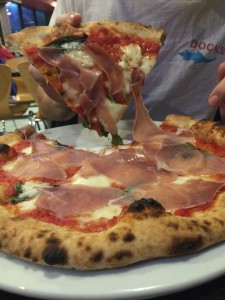 Upon entering Pizza CS, the aroma of fresh pizza immediately fills your senses. Even while paying for the meal, one can see the crust being spun by the chefs and the toppings artfully spread atop the sauce before it enters the key to its flavor: the brick oven.
Pizza CS stressed their authenticity in terms of taste which made us both a bit skeptical, but they were right. Having visited Italy, I can vouch for their claim that their product truly is a "Neapolitan" pizza.
The customer service was pleasant; the cashier utilized the ever-important "service with a smile." The atmosphere of the restaurant is modern with pop art paintings and large-scale cartoons hung on the walls, yet fun is added to the mix with a shuffleboard and foosball table at the back.
We did not have to wait too long for my pizza to arrive hot and fresh at my table. At first bite, we noted the crispness of the crust and the flavor of the mozzarella cheese paired with the sweetness of the tomato sauce, all without being too greasy or too dry. The portions are hefty as well – definitely enough to fill us up.
After the warm pizza, a cool scoop of ice cream pairs nicely, as Pizza CS has ice cream with flavors from JJ Hoffman's creamery, a homemade ice creamery from Finksburg, MD.
The total for the pizza was $13.93 for a margherita pizza topped with prosciutto, a very reasonable price for the quality of the pizza.
Pizza CS is able to stand out from other, more Americanized pizza establishments for many reasons. Their Neapolitan style pizza with fresh ingredients tops the greasy pizzas from many popular pizza carry-outs.
My experience enforced the laid-back attitude expressed on their website, "a simple and honest place to enjoy traditional Neapolitan pizza without making it a serious occasion."