Boys Volleyball Finds Success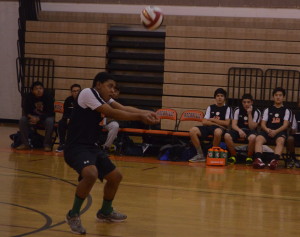 With the regular season coming to an end, the boys volleyball team is looking to make a deep playoff run. The team has already surpassed last year's win total of seven with a record of 9-4 and is poised to find postseason success.
The team's strong record can be attributed to its skilled veteran leadership and dedicated group of players.
"We have a team that's dedicated and full of strong leadership," head coach Sean Pang said.
Unlike past seasons, the Rams have four returning players, all of whom have multiple years of experience competing at the high school level. "The returning players are the heart and soul of the team," Pang said. These players include seniors Meir Punzalan, Erwin Lopez, and juniors Miguel Tolentino and Leo Yoon.
Going into the year, expectations were low as the team had a roster full of young and inexperienced players. Comprised of nine underclassmen and only four upperclassmen, the team used this season as a growing experience.
"It's fun, we've been growing together and becoming better as a team," junior setter Leo Yoon said.
Yoon, who has been on varsity since his freshmen year is excited about the team's potential. With such a young team, the Rams hope to continue the success of this year into upcoming seasons.
"The underclassmen are improving every day and it's exciting to watch," Yoon said.
Although they were unable to win the division title, the team's 9-4 record speaks volumes towards the Rams work ethic, marking their highest win total in years.
"The team has grown so much since the beginning of the season," senior captain Meir Punzalan said.
With the postseason right around the corner, the team is aiming to set the standard for winning in boys volleyball at RHS for years to come.