School Nurse Fufills Childhood Dream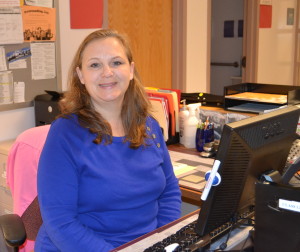 As a health nurse and mother of three, Joan Grocki has a lot of experience taking care of kids. The University of Pittsburgh alumnus spent most of her career in pediatrics and currently works part-time at Rockville, fulfilling a childhood dream.
"I found a paper I wrote in third grade that said I wanted to be a teacher or a nurse and I found a way to do both," Grocki said.
Currently in her fifth year at RHS, Grocki worked as a paraeducator here two years prior to becoming the school nurse. Grocki said that her transition into her new position was easier since she already knew some of the staff.
One of her daily challenges is when students come to her office seeking a diagnosis. Grocki notes that school nurses typically do not give diagnoses. "The only tools I really have are my senses, my stethoscope, thermometer and a blood pressure machine," Grocki said.
Her most memorable experience as a school nurse was when she came across a family that needed help getting glasses for their daughter. After contacting the organization Neediest Kids, which gives disadvantaged students basic essentials for school, she managed to get the pair of glasses for the daughter. She said she was delighted when both the student and her parents came back to thank her.
Administrative secretary Colleen Holladay met Grocki in her first year at RHS since she often supported the counseling and administrative office. Holladay said, "We can reach her anytime and she's always there to support us."
Grocki educates staff on major medical issues, some of which include mental health, seizures, medicine administration and allergic reactions. In addition, she can equip students with information about birth control, pregnancy, diabetes and other personal medical issues. She is also willing to listen and provide resources for further assistance.
Sophomore Isabel Manor said, "She's always kind to you when you come in, she always gives you a chance to explain yourself and she never judges you."
Apart from being a nurse and working in pediatrics, Grocki works as a Pampered Chef sales consultant. The company sells kitchen tools, cookbooks and other food products in order to improve individual's home cooking experiences.