New Courses Offered for 2014-15 School Year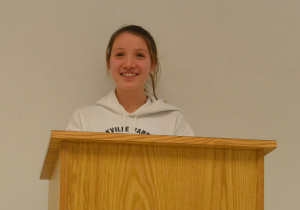 Next school year, RHS students can expect to see a few new classes, as well as courses brought back from the past.
The increase in the number of classes offered provides a larger variety for students to choose from, allowing many to take the courses that better suit their interests.
Resource counselor William Ramsey sees these new classes as an opportunity for students to get a feel for different topics that may interest them. "Everyone is different," Ramsey said. "This way we can provide many alternatives to what students are learning in each subject."
Such classes include CPR and first aid (a new class to Rockville), leadership studies (a renewed class) and walking.
The leadership studies class will get the students involved in planning school events and preparing students to be leaders in their own lives. This class has been offered in past years; in it, students helped plan RHS events with the help of advisors and administration. This class has received much attention, including from junior Ben Ramey, who also signed up for the class.
"I saw the leadership class as a chance for me to get more involved in what's going on in my school, as well as an opportunity to get to know more people who want to get involved," Ramey said.
Sophomore class advisor Katherine Gross, who is currently one of the comprehensive health education teachers, has taken on the responsibility of teaching both CPR and first aid and leadership studies.
"Coming from a large high school myself, I know how important it is for students to have a say in what goes on in their school. With help from teachers and administration, the students could really set an environment for their peers to make their high school experience one to remember," Gross said.
CPR and first aid will include information on how to respond in emergency from basic cuts and scrapes to rescue breathing, as well as athletic injuries.
With an additional physical education class being added, students have more exercise options in school. In the new class, students will walk around the track or school, a great way to exercise for those who prefer a relaxed workout. Most of this year's specialty physical education classes center around intense workouts.
Although it is sometimes hard to get students interested in signing up for new courses, all of these classes are getting a very positive response from students. Many students hope to advance their life skills through these important subjects.