Miller Family Dedicates Book; How Teen's Death Shook Community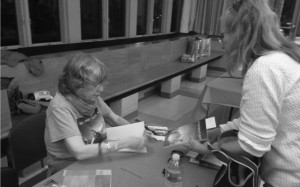 Michelle Miller's grandmother, psychotherapist Alice Miller, recently published her self-funded book "All That Bright Light" about Michelle's murder and the toll it took on her family as well as the Rockville community.
Miller held a book reading and signing at Saint Mark Presbyterian Church Oct. 17. One hundred percent of the proceeds for the book will go to the Red Cross Wounded Warrior Program at Walter Reed Military Medical Center.
College/Career Coordinator Janet Harris attended the event out of respect and sincerity for the Miller family. "We are all family. Rockville is family," Harris said. Many were wearing their Michelle wristbands and shirts to show their support.
The event was so popular, there were no open seats left in the church. "People were buying four or five books each," Harris said.
The reading was very moving and the event was a success, according to Harris. Miller hopes to publish a second book as a follow up to the case.