Varsity Football Moves Towards End of 2013 Season With a Winning Record, No. 1 Ranked Quarterback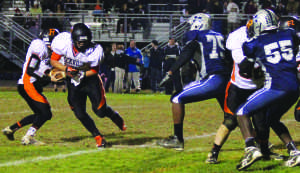 With a solid record of 5-3, the Rams' varsity football team has had a successful season so far, but with few games left, it is up to them to decide how they will finish.
To start off the year, the Rams defeated Richard Montgomery in a battle that had the fans on their feet. The Rams trailed RM by 25 points, but without giving up, they managed to make a comeback to start off their season with a final score of 40-38. The team has already improved from their one win record last season.
The Rams have made some serious adjustments from last year's team, which seem to have contributed to their success this season. Bringing in brand new offense and a whole new setup on defense has caused opposing teams trouble. So far this season the Rams have been dominating other teams with their hurry-up offense, calling a play every seven seconds which causes defenses to become off guard.
Junior quarterback Chuck Reese has led the Rams to several victories with his outstanding statistics that have surpassed every other quarterback in the area. With being ranked no. 1 among all quarterbacks, comes responsibility, which Reese has been able to take on so far.
"Chuck is definitely one of the major reasons why we have been so successful on offense," junior Jack Blackwell said.
Although Reese is a key player on the team, he cannot do it all by himself. Teammates such as junior Anthony Albert, junior Joey Cornwell and junior Louison Biama have been Reese's go-to receivers throughout the season. Albert, Cornwell and Biama also have earned great numbers that put themselves in the top 20 receivers in Montgomery County (Cornwell no. 3, Albert no. 18 and Biama no. 20).
"I love our offense because we are all juniors and work well together, which has brought us success this season," Reese said.
The offense consists of an all-junior receiving core that has a bright future for the rest of the season, and next year. But in order win a game the other team cannot score, which is where the defense comes in.
The defense this year has been solid throughout the season and has contributed towards the team's success. In the team's victory over Watkins Mill, it was the defense that had a big impact on the game. They allowed zero points to be scored on them the entire game due to an extraordinary performance by all players.
"We have switched up the defensive formation to keep opponents wondering, and this has helped us win more games," Senior Tyler Reed said.
Due to current circumstances, it is unlikely the team will be able to make playoffs. Despite this, they still hope to win their last regular season home game against Poolesville HS.
With a solid offense and defense, the Rams hope to end their season on a positive note and continue their winning record.