School Start Time Dilemma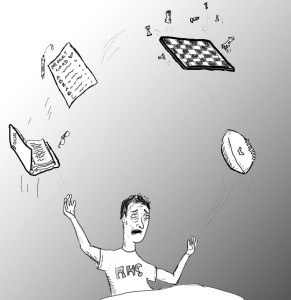 It has become the norm to see RHS students dozing off in class or trudging around with bags under their eyes. The notion that students are expected to take rigorous courses, eat a hearty breakfast, stay active by doing a sport, participate in school clubs and get an ideal eight-and-a-half hours of sleep per night is ludicrous at best.
The average MCPS teenager's alarm clock blares each morning at 6:00 a.m. or earlier, forcing students to wearily wake up and prepare for another exhausting day of school, beginning promptly at 7:25 a.m.
The debate to push back start times has frequently popped up in the MCPS community over the years. But last December, parents circulated an online petition that was signed by more than 10,000 people, all supporting making high school start times 8:15 a.m. or later.
The widespread support of the petition brought the debate back to the forefront of discussions amongst school officials. The Montgomery County Board of Education will discuss this issue on Oct. 8 and analyze research from a new report on high school bell times.
When students are not well-rested, the ability to learn, listen, concentrate and solve problems is limited. A lack of sleep also contributes to worse mental health. According to the National Sleep Foundation (NSF), 73 percent of teens who felt depressed also did not get enough sleep at night.
Some critics argue that pushing back start times will only make students stay up later into the night. However, according to the NSF, students in schools where start times were delayed averaged an extra one hour of sleep per night, or five hours more per week.
If the purpose of our educational system is to foster a new generation of brilliant minds, school officials will take the only rational course of action by delaying start times.