University of Alabama Crimson Tide Wins BCS National Championship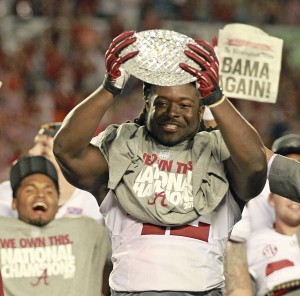 Roll tide! This expression is resounding all throughout the country as the University of Alabama Crimson tide won another BCS national championship over the University of Notre Dame.
This is the team's third title in four years and they became the first team to achieve this feat since the University of Nebraska Corn Huskers did so between 1994 and 1997. Along with winning back to back championships, this win also gave the South Eastern Conference (SEC) their seventh consecutive football title, a feat never reached by any other conference.
In the last week of the regular season, the Crimson Tide was ranked fourth in the BCS poll, trailing the three undefeated teams of Kansas State University, the University of Oregon and Notre Dame. Both Kansas State and Oregon lost on this day, propelling Alabama to second in the rankings behind the team they would eventually beat in the championship, Notre Dame.
After this victory, players started talking about the possibility of a "three-peat," and considering the players returning, including starting quarterback and Heisman trophy finalist A.J. McCarron, it is possible. Every year this team loses several players to the NFL draft, but with the recruits that head coach Nick Saban brings in every year, the team will always be a legitimate contender to win a BCS national championship.