Black Friday Hullabaloo Takes Over Stores Yet Again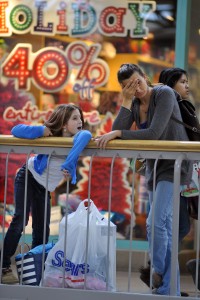 Thousands line up every year for it. As the clock strikes midnight, hundreds more are trampled by shopping carts, pepper sprayed or shoved aside. Meanwhile, everyone has their eyes on the prize: the shiny Toshiba 42″ on the top shelf. Once a year, we cast away our civility to get the best deals.
Black Friday is a "holiday" America could do without. In 2008, a New York Wal-Mart employee was killed in a stampede of customers trying to get into the store. In 2010, a woman in Wisconsin threatened to kill a shopper who cut in line.
Last year, more chaos ensued. Midnight shoppers at a New York Hollister broke store windows and looted merchandise, fuming that they would have to wait until morning to shop. To add to the insanity, a woman at a Los Angeles Wal-Mart pepper sprayed more than 20 people to make a path to the Xbox consoles.
Aware of the safety risks, some chose to opt out of participating in this year's Black Friday madness. "I couldn't go because I knew it would be crazy at the mall and I didn't want to be caught up in all the craziness," said sophomore Abby Hartley.
Last year, nearly 226 million shopped, reportedly spending $11.4 billion or an average of $400 per person in one day. This year, ShopperTrak estimates sales at $11.2 billion, which is a 1.8 percent decrease.
"I was excited because I want all of those people out of work to be working again. To get the country back up and going again, we need people to spend money," said English Composition Assistant Helen Clark.
Although it can be dangerous, Black Friday spending is a great way to boost the economy and find good deals. If people want to shop while avoiding the craziness, Cyber Monday allows shoppers to hunt for the best bargains all in the safety of their own homes. Online shopping is clearly becoming a growing trend since sales on Black Friday alone were a record $1.04 billion.
For many, the in-store deals were too good to resist. Sophomore Gujri Chadha went shopping for clothes and shoes on sale. "I didn't see any fights but the line for Urban Outfitters was pretty long, and same with H&M, Victoria's Secret and Old Navy," said Chadha.