Football Team Shows Improvement Under New Head Coach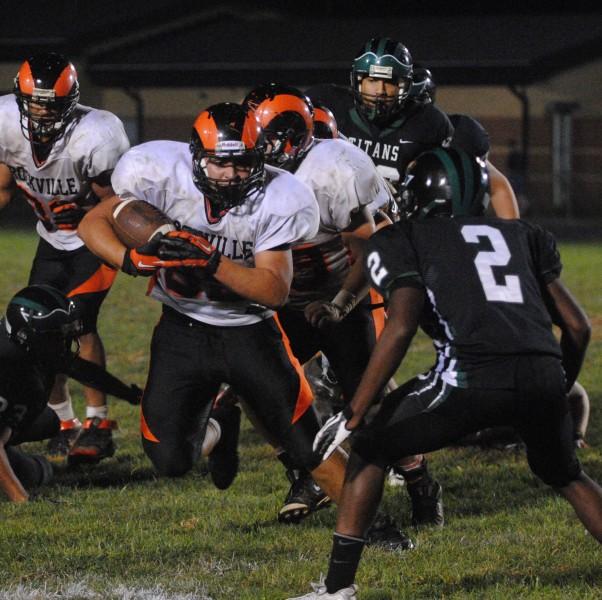 When the final whistle blew, the Rams' 2011 varsity football season came to a disappointing end. With a 0-10 record and the resignation of former Head Coach Kevin Bernot, the Rams were in desperate need of a new head coach. Defensive coordinator Seth Kenton was the answer they were looking for.
Kenton graduated from Baylor University and coached football, baseball and basketball at Smithville High School in Smithville, Texas before moving to Maryland. He coached football and track at Sherwood High School from 2003 to 2009 and won a state championship in football before making the decision to come over to RHS.
Although this is Kenton's first year as the Rams head football coach, he has been the Rams Defensive Coordinator for three consecutive years before accepting this promotion. Kenton hopes that he can use his past coaching experiences to bring success back to RHS football. "It doesn't hurt to have experience," said Kenton. "At Sherwood we had a formula for winning. We increased the athletic ability of average players so we had a set team. That's what I want to happen at Rockville."
However, experience is not the only thing Kenton plans to bring to the team as head coach. Over the summer, Kenton held team workouts from 4 p.m. to 6 p.m. four days a week in order to get his team accustomed to the heat, raising the intensity level set by last summer's team workouts under Bernot's leadership.
In addition to conditioning, Kenton stresses important team values such as hard work, pride and family. Senior captain Rajesh Sharma is happy with Kenton as the new head coach. "The team is definitely headed in the right direction," said Sharma. Although this year's team is noticeably smaller than last year's, Sharma views it as a benefit. "We have a smaller team that plays for each other rather than themselves. We're more of a family this year," said Sharma. Despite the loss of numerous key players, Kenton only wants one thing from his team: "I expect the entire team to go out and play four quarters of their hardest football. As long as they do that I'll have no problems."
Kenton's new approach seemed to work during the Rams' game against Northwood on Sept. 7 where RHS broke an 11 game losing streak in their 34-27 victory. Already, the Rams have exceeded the expectations that were set by last year's team. Hopefully for Kenton, this win is the beginning of many to come. With new leadership, a new team attitude, and the first win in over a season, coach Kenton is looking to restore a winning tradition at RHS.