Basketball Coach and Science Teacher G.J Kissal Moves to Clarksburg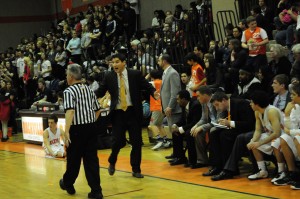 Although the 2012-2013 basketball season does not officially start until Nov 2012, major changes have already been made to the boys basketball coaching staff.
Boys varsity basketball coach and science teacher GJ Kissal will not be returning to RHS next year as he will be teaching at Clarksburg HS, as well as coaching their boys varsity basketball team. Once the job was offered to Kissal, he knew it was too big of an opportunity to pass up. The biggest reason for Kissal's departure is that Clarksburg HS will be implementing a new sports medicine program next year, which is similar to Kissal's undergraduate degree: Kinesiology.
Kissal coached the JV team for one year before moving on to coach the varsity rams for five years. Before coaching at RHS, Kissal played basketball for Allentown College and even spent a year abroad playing basketball in Greece. "I'm sad to see [Kissal] go; we have learned a lot from him and he has learned a lot from us," said junior Peter Hailey.
While at RHS, Kissal started Rockville's i270 program, the orange alliance team, and the ram's basketball camp. All of these teams reach out to younger athletes in the community. Through these teams, Kissal has known and supported the RHS basketball players for a long time. "I still love [my players] and feel very strongly about what they can accomplish," said Kissal.
Next year, boys JV basketball coach and social studies teacher Steven Watson will take over the role of boys varsity basketball coach. Watson almost left to coach the Seneca Valley varsity boys basketball team, but when the opportunity to stay and be head coach at RHS arose, he knew he had to take the job. "I appreciate the opportunity Seneca Valley gave me, but [RHS] is home," said Watson.
To continue building the Rockville basketball program, Watson plans to keep running all the basketball activities, but continue to bring in more community involvement. One of Watson's main goals is to keep helping kids in the community play basketball at a younger age and bring them into the program sooner. "I am really happy coach Watson is there to take over because I know he cares about these guys," said Kissal.
The RHS community and the basketball team will miss Kissal next year, but are looking forward to the future and are ready to keep building the basketball program.