Teenagers No Longer Read for Enjoyment
A book used to be a child's escape from reality, a place where imagination roamed free. A book used to be the way a child could learn anything. Everyone used to read, but now, most teenagers will immediately glance over a book.
The actual question is why teenagers are not willing to read. "Teenagers are addicted to the Internet," said freshman Roger Pope. "They are addicted to sites like Facebook." When it comes to the Internet, it seems teenagers would pick it over a book most of the time.
Pope's claim is supported by a 2008 study by the National Center for Education Statistics. According to the study, 25 percent of 13 year olds hardly ever read for fun. Another 12 percent read for fun only a few times a year. The numbers change a little at age 17, during which the percentage of teenagers reading everyday drops from 26 percent to 20 percent.
Reading has its advantages over the Internet. "There are tons of choices when it comes to reading," said freshman Christian Mancilla. "Also, your parents do not get mad at you." From the action genre to romance novels, there are books suited for every sort of teen.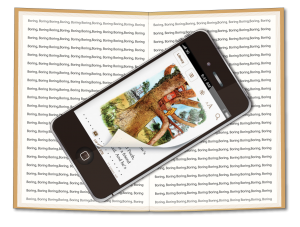 Technology is becoming a larger part of reading with electronic reading devices such as the Kindle and Nook. These E-readers give readers more control over how they read and are smaller than your average book, making them easier to carry. With the ability to download books, teenagers would not need to be embarrassed by having many books. Reading has finally reached the digital age.
An interest in reading can spark an interest in school. Interest makes teenagers more willing to learn. "When I read something and it relates to something in school, it is sometimes cool," said freshman Daniel Hoffman. "It is more likely I would listen to something interesting than something boring."
Reading does not mean looking at print one does not understand. Start with what makes sense and build up. Gradually, the knowledge will grow. A book does not need to be read in one sitting. Ten pages a night sound less scary than thirty.