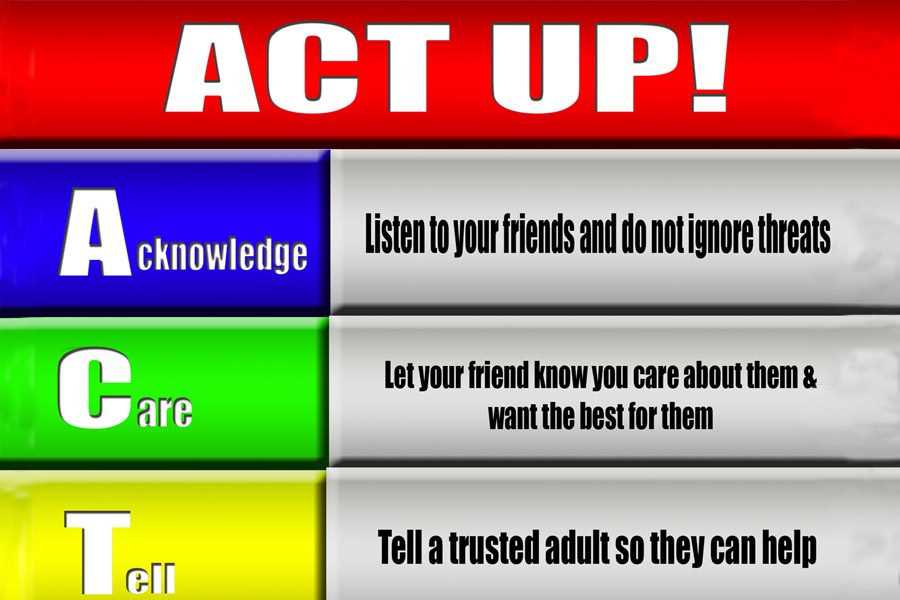 Graphic by Mark Shaefer
From March 19 to May 18 MCPS is implementing its new Signs of Suicide (SOS) and Prevention Program that is part of a reconstruction of the current mental health guidelines in response to growing mental health struggles among teens both nationally and locally.
As part of this initiative, many students viewed the video "Friends for Life" in their math classes which focused on how to identify and handle mental health issues in high school.
"I thought the video was very helpful and informative with techniques I can use to recognize when my friends and schoolmates are demonstrating signs of depression," senior Parker Shugars said. "It also presented numerous avenues in which I can report signs to a trusted adult, as well as ways I can convince someone to seek help themselves."
MCPS originally slated this program for implementation in the 2018-19 school year. However, after a string of suicides by students in the county paired along with a gun threat at Clarksburg HS Feb. 15, the program was pushed into the current school year, resource counselor Alejandra Crawley said.
The reasoning for the early implementation is a product of numerous factors and the SOS program has been considered for years.
"Across the country students have increasingly been demonstrating signs of mental illness according to data provided by the CDC (Centers for Disease Control and Prevention). MCPS has been tracking this and felt it was time to take action," MCPS director of Psychological services Christina Conolly said. "We instituted a pilot program in the fall at Churchill High School and felt comfortable with the response."
While recent mental health tragedies brought more attention to the issue, the depth of the country's and county's mental health struggles may be more sizeable than is widely aware.
During the three school years prior to 2017-18, the county had approximately 1,000 students referred to the suicide crisis center by MCPS employees. However, last year saw an increase of nearly 30 percent, and this year's numbers have already surpassed those of last year, according to the MCPS report on crisis referrals.
In order to address these alarming statistics, MCPS has put in place mandatory training sessions for all employees that include lessons from central office mental health policymakers on the signs of students struggling with mental health. At RHS, all staff attended one of multiple rolling staff meetings March 13.
"We have these trainings in place so that all staff members are not only aware of the severity of the problem, but have the necessary skills to identify behavioral abnormalities and are proactive with their responses," Crawley said.
These training sessions along with the student videos are only the beginning of MCPS's revamp of their mental health policy. Due to the early implementation of the program, they were unable to roll out all of the desired components, most of which are currently being developed for next year.
The part of the program slated for next year, otherwise known as part two, will include three additional supplementary student videos to go along with the current one. Furthermore, there will be assigned videos for each grade, with the most intense video being shown to incoming freshmen and the least intense being shown to seniors, Crawley said.
Despite the major steps that have been taken in the last year, MCPS continues to have concerns with their current mental health program. One of the most significant concerns is the allocation of outsourced youth and family counselors to work with students referred for assistance.
"Rockville High School currently has a designated [outsourced] counselor provided to them by the city of Rockville," Crawley said. "However she is also designated to additional high schools in the county, which makes it difficult for referred students to get appointments as there are long waitlists."
Thirty of the 65 students this school year who have been recommended for early intervention mental health services through the city of Rockville have come from RHS, according to RHS' designated counselor Ama Kyere.
Students in the counseling program receive three informal counseling sessions and up to 12 formal counseling sessions.
"In addition to becoming aware of the relationship between their thoughts, feelings, and behaviors, students learn coping strategies that support them in modifying their thinking and managing feelings of anxiety and depression," Kyere said.